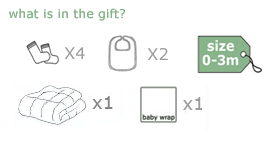 A baby gift that looks like the real thing!

These stunning baby cakes look delicious! Each decadent baby cake contains a cream plush baby bassinet blanket (measuring 60cm x 80cm making it the ideal size for a throw in the cot or stroller), one baby muslin wrap, two baby bibs and four pairs of baby socks.

An extraordinarily delicious baby gift.
This cake measures 160mm in height and 200mm in diameter.

Gift price includes Australia-wide delivery.