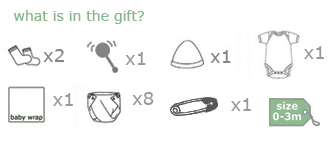 Almost as light as Grandma's butter cake... this baby gift will set hearts aflutter!
Each "Flutter Cake" is made from eight disposable nappies, one cotton baby bodysuit, one cotton baby beanie, two pairs of cotton baby socks, one muslin baby wrap and a newborn-safe baby dragonfly rattle.
Available in colours for a boy or a girl. Please note that the colour of the wrap may vary.
This cake measures 160mm in height and 200mm in diameter.
Gift price includes Australia-wide delivery.