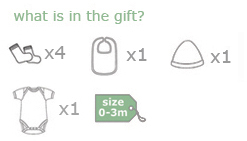 These stunning yet subtle baby bouquets are made from certified organic clothing. Soft, gentle and environmentally friendly.
Each baby gift bouquet contains one organic cotton baby bodysuit, one organic cotton baby bib, one organic cotton baby hat and four pairs of organic cotton baby socks. 
Available in colours for a boy, a girl, and unisex in green or natural.  
This bouquet measure 300mm in length and 200mm in diameter.
Gift price includes Australia-wide delivery.