Print
home

Blog

baby bouquet on special
Published on by

Marianne
baby bouquet on special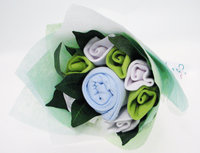 We have a fabulous baby bouquet on special at the moment. It is the Romper Stomper and is only $42.00
For a limited time only, these bouquets are a perfect gift for a new baby boy!
Each bouquet contains four pairs of socks and one cotton jumpsuit - a complete bargain!
This bouquet measure 300mm in length and 200mm in diameter.
Gift price includes Australia-wide delivery.
Only registered users may post comments.
Sign in and post comment
Register now
---